Do you hate looking in the mirror or having pictures taken?
Are you constantly criticizing your body(either out loud or in your head)?
When what you really want is to feel comfortable and confident in your body?
The pain you are feeling is not because of your size, jiggly thighs or poochy stomach.
The pain that you are feeling is the pain of objectification. But as this summer's hit movie Barbie reminds us (oh so pinkly!), your worth is not defined by how your body looks, or what you wear, the size of your Dreamhouse, or even what you do for a living.
And that means that the solution to your pain has nothing to do with changing any of those things. (Although that is always your prerogative!)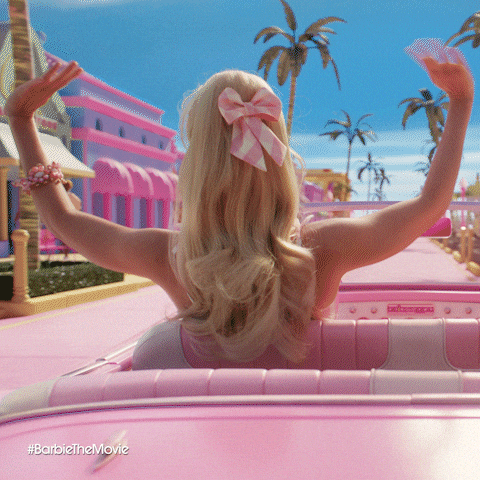 The solution is to give yourself permission to show up in the world unapologetically and authentically as your amazing, wonderful, size whatever, self.
We realize that this may feel impossible right now. Years of cultural conditioning and internalized criticism, restriction, and neglect can do a lot of damage to our ability to connect with and trust in our own inherent worth.

But we are here to help.
We (and Barbie!) know–beyond a shadow of a doubt–that you are 100% worthy and acceptable and (yes!) lovable… precisely as you are.
And we'll lend you some of that belief, while we help you rebuild your own. That's what this program is for.
So that you can stop obsessing about the way you look and feel at home in your body.
So the next time you have lunch with your girlfriends or head to a family holiday event, you don't spend hours in front of the mirror, tugging at your clothes, or worrying about how you'll look in the photos. Instead, you can show up fully focused on what matters: enjoying the people you love.
A peaceful, authentic, and loving relationship with your body is possible. And we'll help you get there.
Meet Cassie Christopher, MS RDN:
As a Registered Dietitian Nutritionist, I specialize in helping women break free from restrictive dieting and shame to stop their struggle with binge and emotional eating. I use lifestyle medicine to help my clients live their healthiest and most authentic lives.
Meet Monica Reinagel, MS LDN:
I'm a Licensed Nutritionist and behavior change coach. And I've helped hundreds of people create a healthier, happier relationship with food and their bodies—and finally break the cycle of stress and emotional eating.
---
Check out what other clients have said about what it's like
to repair and restore their body image:
"I've had an almost spiritual reconnection with my body; I no longer criticize or abuse her, but am grateful for all she's done for me. I've learned to show myself compassion and kindness, just like I would a friend. I've discovered that I love myself no matter what."

Suzanne
"Now I speak kindly to myself, whether I'm looking in the mirror or the refrigerator"

Debbie
"When Cassie asked for a picture I got my tablet out and took my picture and take notice, I have a pink blouse on, no hesitation. I used to exclusively wear black to hide my body. I used to be so isolated because I was trying to hide my body."

Jenny
Don't spend another day hating your reflection in the mirror.
You don't need to lose an ounce of weight, buy a new wardrobe, or adopt a new skincare routine to feel better. In fact, none of those things will actually work. Because none of these things stop the self-critical thoughts that constantly push the bar of perfection higher and higher, forever out of reach.
You can learn how to accept and love yourself just as you are and stop seeing your body as the enemy.
Introducing Body Image Repair and Resilience!
An intimate, 3-week program that will help you be more of who you were meant to be in the world.
Join us on October 7th to find peace with your body.
What you get when you work with us:
Body Image R&R Intensive
Join us for a 90-minute interactive seminar on October 7th at 9am PT/noon ET where you will learn how to finally free yourself from the self-critical voice and cultural conditioning that keeps you stuck in an endless loop of self-loathing and fear. (Recording available).

Resilience Workbook
Immediately begin applying what you've learned about how to repair your relationship with your body, and become more resilient to events that used to torpedo your confidence.

21 days of Coaching and Community Support
Get support as you apply the concepts presented in the workshop and workbook, in a private Facebook group with other participants. Cassie and Monica will be answering your questions and going live weekly throughout the program to help you get the most out of the content. This is your chance to try the personalized strategies in the workbook and troubleshoot issues that come up in real-time, two very important tactics for behavior change!

Live Debrief and Community Wrap-Up:
Meet with Monica and Cassie on October 28th at 9am PT/noon ET to debrief your experience and get answers to any lingering questions. (Recording will be provided). 

BONUS Repair and Resilience Playlist
A curated playlist of podcast episodes, specially selected to support you in your ongoing repair and resilience work.
Choose from 2 options:
Option 1 – $199: Body Image R&R Intensive, Resilience Workbook, Coaching and Community Support, Debrief and Wrap-up Session + Bonus Playlist:
Provides the greatest value and opportunity for growth, with access to feedback and coaching from Cassie and Monica and peer support as you work on your transformation.
Option 2 – $69: Body Image R&R Intensive and Resilience Workbook


A good option for people who just want the information and want to implement it on their own, without support.